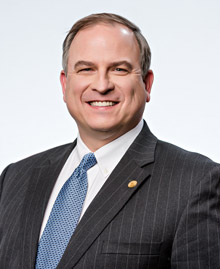 Mr. Balice has been in practice since 1985, after graduating with high honors from Cooley Law School. In that time, he has established himself as one of the preeminent attorneys in mid-Michigan, practicing not only in Ionia County but throughout the mid-Michigan area.
He has secured large personal injury and wrongful death awards for his clients through trial and settlement, and is also well-known for his vigorous defense and excellent results in criminal defense cases.
Mr. Balice has developed an outstanding family law practice as well, representing hundreds of clients competently, professionally, and with discretion in their divorces, custody cases, and related family law matters. He has a general practice which also includes decedent's estates, real estate disputes, and contract law.
Mr. Balice is very involved in the community, having served as mayor of Ionia since 1989, and has served on boards which include Sparrow-Ionia Hospital, Independent Bank, the Ionia Free Fair Association, Habitat for Humanity, the Ionia Community Foundation, and Ionia Area Hospice.
When Dan is not practicing law or spending time with his wife Janet and his children, he is fulfilling his duties as mayor of Ionia. He is also an avid Grand Valley State University Sports fan, having played football and baseball there during his undergraduate education.
He is also a well-known emcee for various events, both locally and in greater west Michigan, which allows him to demonstrate his wit and well-developed sense of humor.