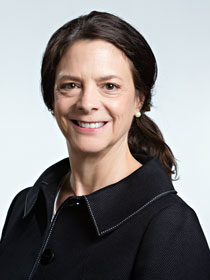 Terese Paletta is a founding member of Peterson Paletta Balice, PLC, and has distinguished herself as one of only 10 attorneys in Michigan recognized as a Child Welfare Law Specialist by the National Association of Counsel for Children.
She applies the same level of commitment to excellence and compassion for her clients to the other areas of her practice. Many area attorneys attempt to practice parent coordination, but few have the appropriate level of training and expertise.
With over 20 years of family law experience, Terese is one of only two Child Welfare Law Certification recipients in the Grand Rapids area and has received extensive parent coordination training.
She has served as the exclusive attorney-parent coordinator for the 8th Circuit Court in Ionia County since 2002 and is the founder of the Ionia County Parenting Coordination Team, which is dedicated to providing comprehensive services to children victimized by high-conflict divorce. She has been published in the Michigan Child Welfare Journal detailing this innovative work.
As a member of the Association of Family Courts and Conciliators, Terese is an expert mediator. She assists children and families in the full spectrum of legal needs, including adoption, guardianships, conservatorships, and school law issues. Terese is often called upon by the courts to represent children in abuse and neglect, custody, and delinquency matters.
A former assistant prosecuting attorney and administrative hearings officer, Terese also possesses expertise in criminal defense and general civil litigation.
Terese focuses her practice in the following areas:
Adoption. Terese has experience in a broad array of adoptions, including direct adoptions, stepparent adoptions, and relative adoptions.
Abuse and Neglect. A focus of Terese's practice since 2003. She has taken the time and discipline to attain certification as a Child Welfare Specialist. Terese has also assisted parents whose rights have been suspended achieve reunification while ensuring safety of the children.
Appeals. Terese has over 20 years experience appealing criminal and family matters to the Michigan Court of Appeals.
Criminal Defense. A former and current part-time prosecutor, Terese has over 25 years of experience in criminal law. Her expertise and courtroom success has been recognized by her being asked several times to serve as a special assistant prosecuting attorney.
Grandparent Rights. Many family law attorneys are reluctant to pursue the area of grandparent rights as it is often fraught with heartache and frustration. Terese believes that too often, parents' and/or grandparents' feelings override the best interests of a child in these matters. She seeks to provide a child with a precious relationship with their grandparents in a healthy environment.
Mediation/Parent Coordination. As with grandparent rights, the child is often the overlooked party in conflict between family members. Terese works with high-conflict families to learn to resolve their differences and be healthy role models for their children.
Education:
Michigan State University, James Madison College, BA
University of San Francisco Law School, JD
Bar and Court Admissions:
Michigan
U.S. District Court for the Western District of Michigan
United States Supreme Court
Professional/Community Affiliations:
Association of Family Courts and Conciliators
Child Welfare Law Specialist
Grand Rapids Bar Association
Grand Rapids Amateur Hockey Association, Manager/Sponsor
Ionia/Montcalm Bar Association
Ionia County Parent Coordination Team
National Association of Counsel for Children
Representative Matters:
2004: Terese was one of the founders of the Ionia County Parenting Coordination Team providing high conflict families with subsidized alternative dispute resolution services.
2008: Terese obtained a $10 million judgment on behalf of 3 girls who were molested by a family member.
2009: Terese became certified as a Child Welfare Law Specialist — one of only 10 attorneys in the state at the time.
2010: Terese successfully appealed the termination of a father's parental rights, where the father was not afforded due process to rehabilitate and provide safety for his children's well being.
2011: Terese secured grandparent visitation rights for a family who had been denied access to their grandchild after their son passed away. Other law "experts" had told the family they did not have standing to ask the court to award grand parenting time.
2012: Terese was appointed as the Prosecutor for the City of Walker.